FAQ
What's the meaning of "enclosure type"?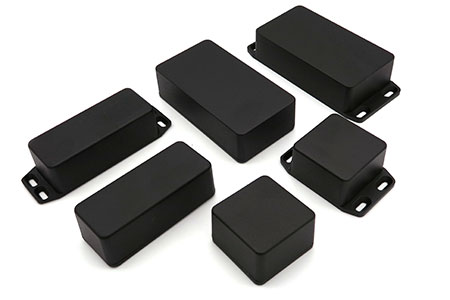 Most pedals are built in powdercoated black enclosures. These are of the highest quality and almost impossible to scratch - they will still look like new even after years of use!
Most products allow you to choose a black powdercoated enclosure or a black powdercoated enclosure with a mounting plate. The mounting holes are on the short side of the pedal.
Patchboxes are also availably in a uncoated silver enclosure. These are also very high quality with a very smooth surface.
Why choose Looperwerk?
Every Looperwerk pedal is handbuilt and tested with guitar and tube amp. I use only the very best parts available on the market.
Because my products are only available from me, the prices can remain pretty low because no dealer has to own his share.
Highest priority for me is quality. The purchasing price of the parts is not relevant for my choice. I could built my products cheaper if I selected the parts by price, but a big part of the price is labor and with high quality parts my products have the highest price-performance ratio.
Does Looperwerk ship to _____?
I ship to all countries - but not all countries can be selected on the checkout page yet. If your country is not on the list, please send me an e-mail and I will check the shipping costs and add it to the list!
How can I pay?
You can pay via PayPal or bank transfer.
Who is running Looperwerk?
Constantin, an experienced effect pedal builder and music electrician, who was on a search for the perfect sound for a long time and want's other musicians to take part in the results.
More at "About me".
How long does the Looper pedal record for?
It doesn't record! The looper pedals I make are "true bypass" looper pedals which enable you to create a loop for your effect pedal(s) to sit in so you can bring them into your signal when needed.  This is useful for keeping a tone sucking pedal out of your chain until needed, or can be used to activate several pedals at once.
How long will it take to ship ?
Most products are prebuilt, I don't ship every day, but at least twice a week, so after 3-4 days your order should be on the way to you!

More questions? Send me a message!