Patchboxes
Sophisticated patchboxes with special features for all applications.
A patchbox puts all the connections of your pedalboard in one place and makes it easy to connect your pedalboard to your amp. It also protects the sockets of your expensive effects (and has even the highest quality sockets built in).
All Looperwerk patchboxes have fully isolated channels and a grounded aluminium enclosure.
In addition, most of my patchboxes have one or more special features built in, you can find an overview at the end of this page.
---
Overview of special features
There are four different special features, you can see which of them a particular patchbox has in the item description.
Each individual channel has two opposing jack sockets, the inner socket is wired to effects on the pedalboard, the outer socket to the guitar, amp, etc. 
Three use cases:
Mute: If this channel is used with mono cables as an input channel for the guitar, it automatically mutes itself (and thus the input of the pedalboard) as soon as no cable is plugged into the outer jack - this prevents interferences
Insert: This channel can be used as an access point (insert / guest loop) in the mono signal path with the help of insert cables.
If the outer socket is then empty, the signal from one end of the insert cable is passed directly to the other end; if a effect pedal or volume pedal is connected to the outer socket with another insert cable, the signal passes through this first.
Wireless bypass: Using an insert cable, this channel can be used to go directly into the pedalboard with a mono cable instead of wireless - either as a backup or because you want to play spontaneously via cable.
Insert / Mute can be deactivated for each patchbox. This is necessary if the channel is used as an output, which should then never be muted, as this can lead to problems, depending on which effect pedal is in front of it.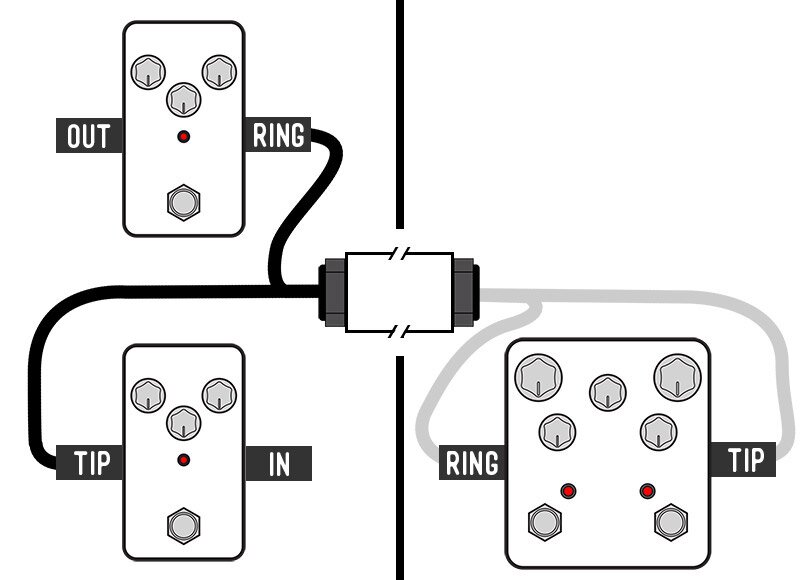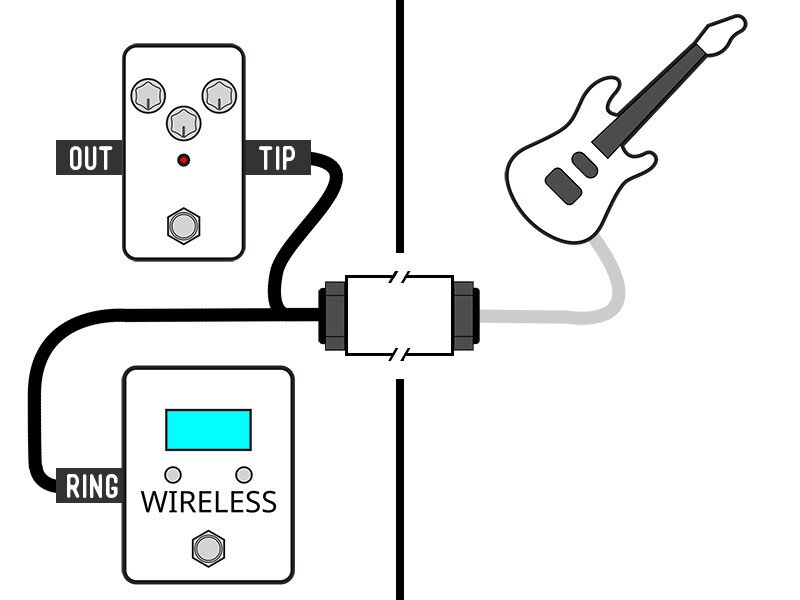 The white outer sockets connect if both are empty, the signal then goes from one opposite inner socket directly to the other.
This allows two uses:
Wiring of the pedalboard for amps with an effects loop, use of the complete pedalboard also with amps without an effects loop - with an additional channel you have three channels for amp input, FX loop send and FX loop return, with amps without an effects loop you leave the two white sockets empty and go from the third outer socket into the amp input.
Access point in the signal path (insert / guest loop), for example to insert a volume pedal or external effect pedal into the signal path.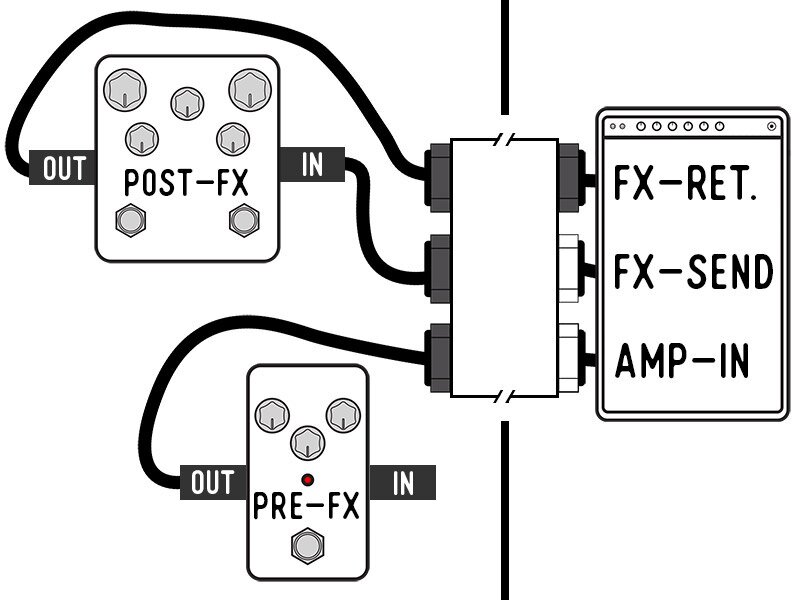 Use with an amp with an effects loop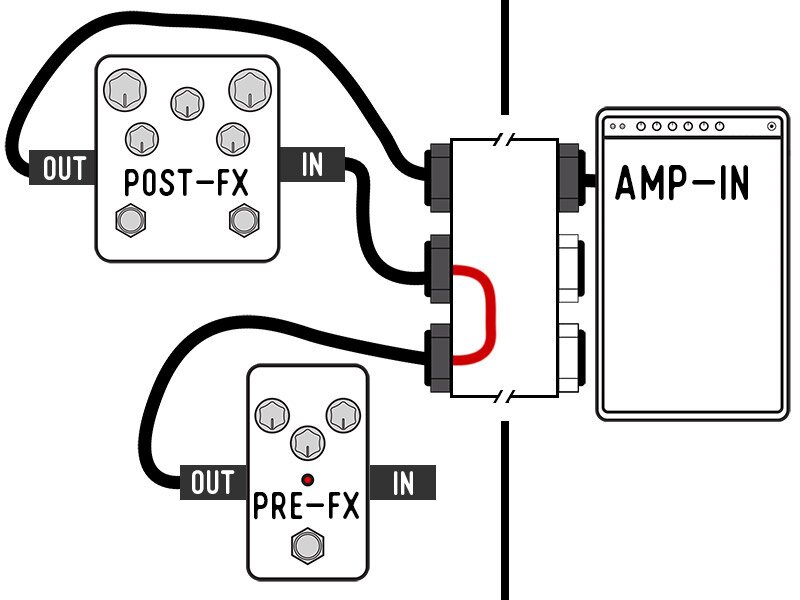 Use with an amp without an effects loop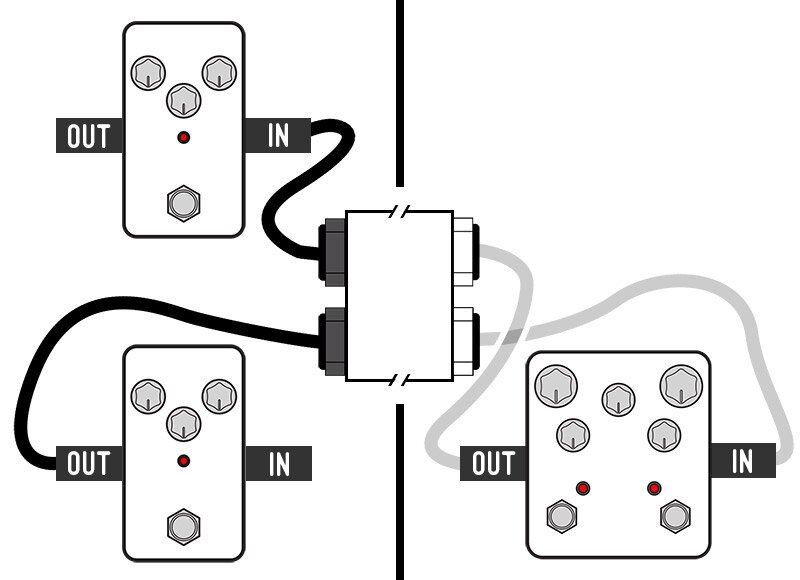 Splitting works in the interaction of two channels.
If a certain inner socket is not occupied, the signal that is present at the other inner socket is passively split to the outer sockets.
You can use this, for example, to operate two amps simultaneously or to send a signal to an amp and a recording interface at the same time. In order to isolate the two signal receivers from each other, in some cases an isolator (such as the Lehle P-ISO) is recommended in front of one of the signal receivers.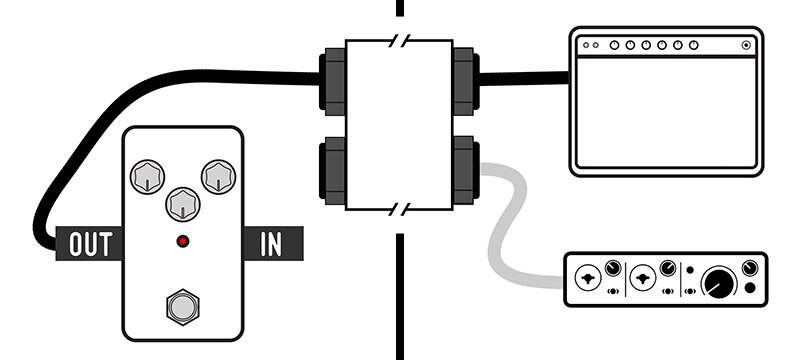 Summing works in the interaction of two channels.
If a certain outer socket is empty, the mono signals present at both inner sockets are summed via a passive resistor network to the other outer socket.
If the last effect pedal of your signal path outputs a stereo signal (split into 2 mono signals, left and right), you can connect these two mono signals to the two inner sockets and then connect an amplifier to each of the two outer sockets - or just one amplifier to a particular outer socket, which then receives the summed signal.
Summing is deactivated by default, it can be activated internally, but this should only be done if the patchbox is used accordingly.
Note: Some effect pedals (especially digital ones) use a different algorithm when both outputs (left and right) of the effect pedal are used, in this case the summed signal does not correspond exactly to the mono output signal of the effect pedal.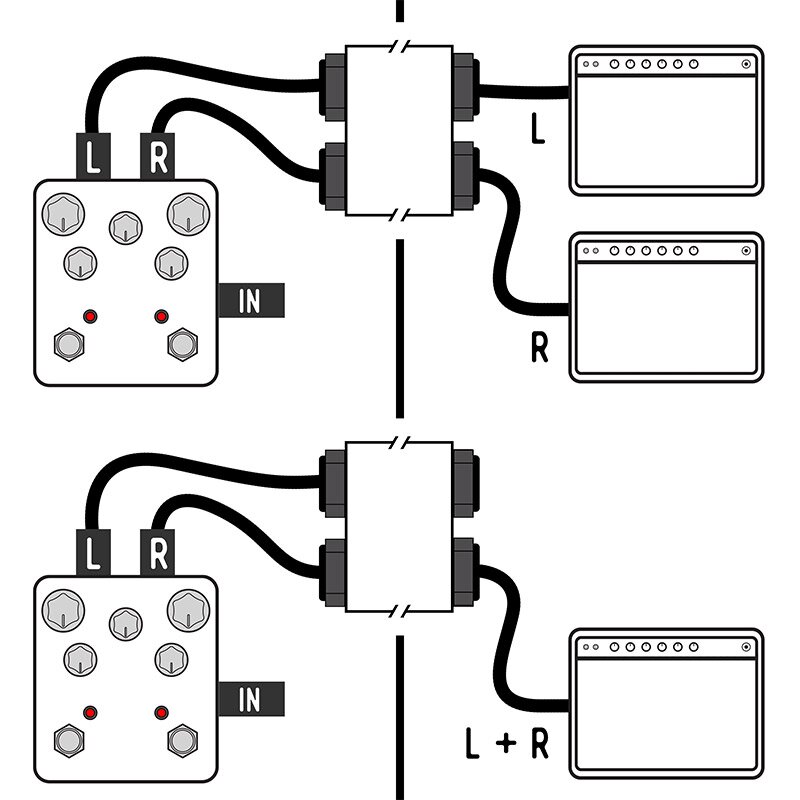 ---
---