Multirouter (Loop Router, True Bypass Looper, A/B-Switch and more)
I always try to include as many possible applications as possible in every product. So that if your setup changes after a while and you might not need the product for the application you bought it for anymore, there is often another application you can use it for.

In this aspect, the Multirouter is the flagship, it has 10 different possible applications!
Loop router
Router-patchbox
Position of effect pedals in the signal chain
True bypass looper
Order of effect pedals
A/B-switch for guitars
A/B-Switch for amps
(Tuner-) mute
Amp-channel-switch
Effect-changer (for this application you need to switch over the internal miniswitches).
Most users use it as a loop router, to change the order of effect pedals or to switch between to effect pedals.

The position of the sockets is optimized for a clean wiring on your pedalboard without cable spaghetti.

The Multirouter is passive, power (9V, center negative) is only needed for the bicolor (red and blue) LED. There are two power sockets, you can use either one and use the other one to forward power to another effect pedal.
There is an overview of all applications and where to connect cables on the back of the Multirouter.

Dimensions (without sockets and switch): 112 x 60 x 31 mm.

On the inside you can also switch between two LED brightness settings.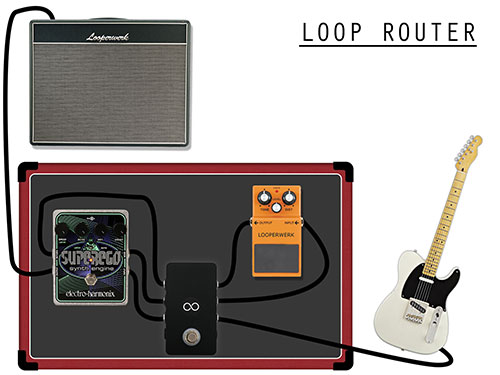 Loop router: Manche Effekte (EHX Superego, Orion Kafka Reverb etc.) verfügen über eine integrierte Effektschleife in der andere Pedale eingebunden werden können. Diese können dann aber nicht mehr spearat verwendet werden. Hier hilft der Multirouter, er holt sie bei Bedarf aus der Effektschleife des anderen Effektes heraus (und dieser ist trotzdem weiterhin normal zu betreiben - ohne Pedal in der Effektschleife). In diesem Beispiel ist der orangene Effekt bei deaktivertem Multirouter vor dem Superego.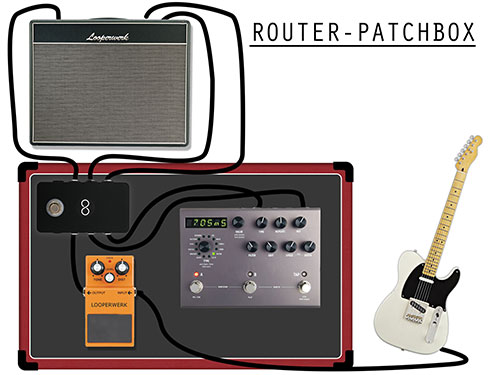 Router-patchbox: Durch die passende Buchsenanordnung lässt sich der Multirouter auch als Patchbox verwenden. Per Schalter kannst Du dann die Effekte aus der Effektschleife direkt vor den Amp schalten und zurück.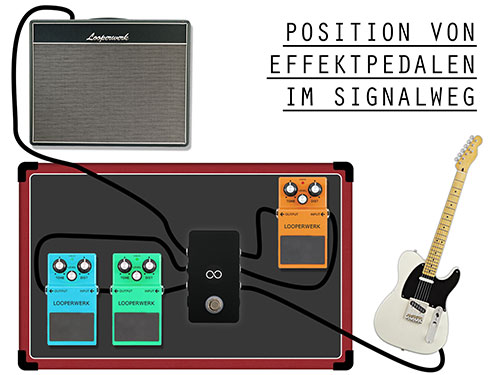 Position of effect pedals in the signal chain: Verändere die Position von einzelnen oder mehreren Effekten im Signalweg. In diesem Beispiel ist der orange Effekt entweder zwischen der Gitarre und dem grünen Effekt oder zwischen dem blauen Effekt und dem Amp.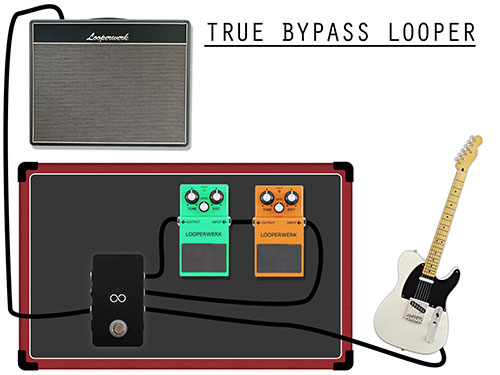 True bypass looper: Du kannst den Multirouter auch als True Bypass Looper verwenden. Ist er deaktiviert (also die Pedale nicht im Signalweg), wird der Eingang der Pedale automatisch auf Masse geschaltet, das verhindert Störgeräusche beim Umschalten.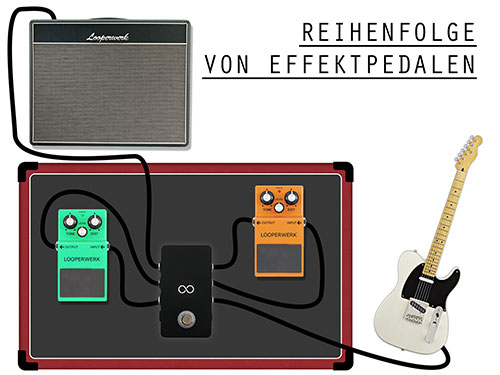 Order of effect pedals: Verändere die Reihenfolge von 2 Effekten (oder 2 Effektketten). In diesem Beispiel geht die Gitarre entweder zuerst in den orangenen dann in den grünen Effekt oder umgekehrt, je nach Schaltzustand.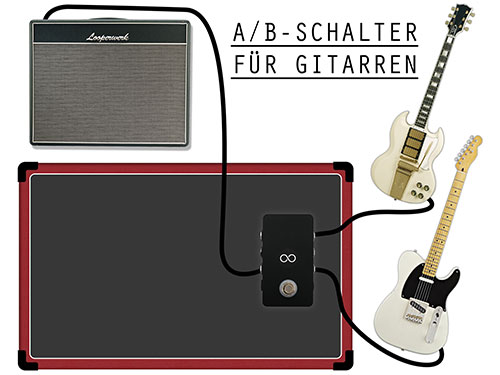 A/B-switch for guitars: Schalte zwischen zwei Gitarren um. Die nicht verwendete Gitarre wird auf Masse geschaltet um Störgeräusche beim Umschalten zu verhindern. Die Buchsen sind optimal angeordnet (Eingänge rechts, Ausgang links).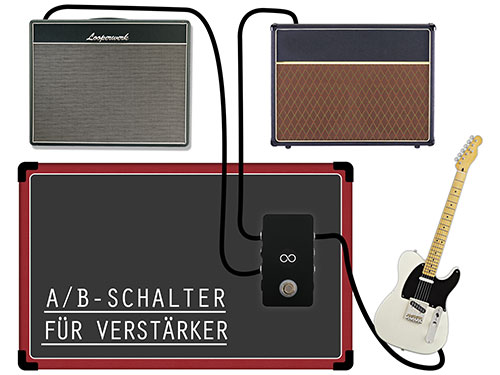 A/B-switch for amps: Schalte zwischen zwei Verstärkern um. Der nicht verwendete Amp wird auf Masse geschaltet. Die Buchsen sind optimal angeordnet (Eingang rechts, Ausgänge links).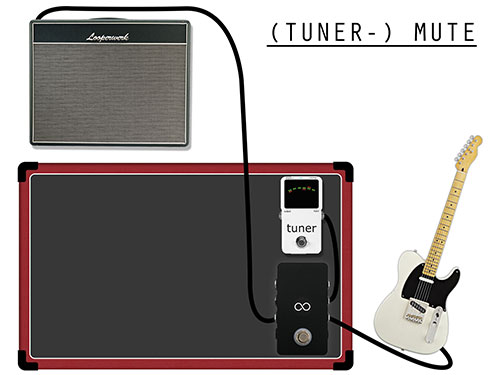 (Tuner-) mute: Sende das Gitarrensignal zu Deinem Stimmgerät (auch hierfür ist die Buchse optimal angeordnet). Der Amp wird automatisch stummgeschaltet. Ohne angeschlossenes Stimmgerät ist der Multirouter ein Stummschalter.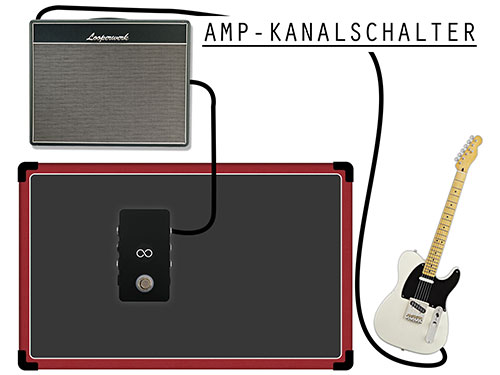 Amp-channel-switch: Verwende den Multirouter um zwischen Amp-Kanälen umzuschalten. Je nach Buchse am Multirouter (es gibt zwei Möglichkeiten) leuchtet der Multirouter im cleanen Kanal blau und im Drive-Kanal rot oder umgekehrt.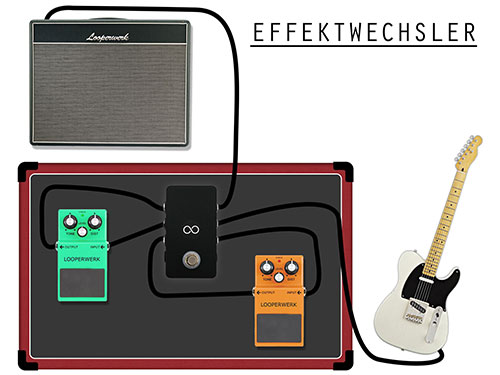 Effect changer: Schalte zwischen zwei Effektgeräten hin- und her. Hierzu musst du den Multirouter öffnen und die DIP-Switches nach Anleitung umlegen.
---